Buy Alphonso Mango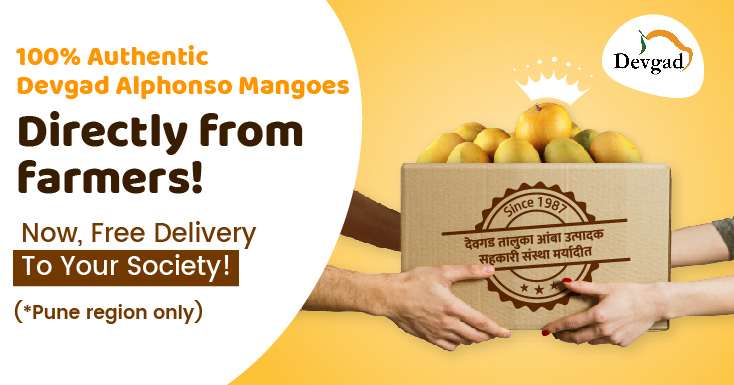 The covid 19 crisis has resulted in so many of you not being able to enjoy their share of delicious alphonso mangoes this season. Which is why we are super happy to announce that we are bringing mangoes to your society's doorsteps (*Pune region only)
Your society can now get their hands on 100% naturally ripened and carbide free Devgad Hapus by filling the necessary details in the form below.
Please Note:                                                                                                                                   
Minimum Order Quantity is 50 Petis

Payment of 20% has to be made in advance to confirm the order.                                                    

Mangoes will be delivered one week after the order is placed.

For any query please contact +91 9022112269 or +91 9823807907

Free delivery to your society!
| Mango Size | Average Weight Per Mango | Per Peti (4 Dozon) Cost | 50 Peti Cost Minimum Order |
| --- | --- | --- | --- |
| A1 | 275 gm | Rs. 3740 |  Rs. 187000 |
| 1 | 250 gm |  Rs. 2940 |  Rs. 147000 |
| 2 | 225 gm |  Rs. 2540 |  Rs. 127000 |
| 3 | 200 gm |  Rs. 2340 |  Rs. 117000 |
| 4 | 175 gm |  Rs. 1940 |  Rs. 97000 |